Miss Rosie's Farmhouse Favorites

Miss Rosie's Farmhouse Favorites - 12 Captivating Scrappy Quilts by Carrie Nelson


MSQC Block - Holiday 2015

Block the Quilt Magazine from Missouri Star Quilt Company and Jenny Doan


MSQC Block - Block Baby "Mystery"

Block the Quilt Magazine from Missouri Star Quilt Company and Jenny Doan


Quirky Little Quilts - Patchwork from the Past

Temecula Quilt Company - Quirky Little Quilts - Patchwork from the Past, Projects for the Present


Simple Friendships

Simple Friendships Quilt book by Kim Diehl and Jo Morton. 14 Quilts from Exchange Friendly Blocks


Simple Friendships II

Simple Friendships II Quilt Book by Kim Diehl & Jo Morton



Out of Stock
Simple Harvest by Kim Diehl

Simple Harvest Quilt book by Kim Diehl


Simple Sampler by Kim Diehl

Simple Sampler Quilt Book by Kim Diehl for Martingale


The Ultimate Flying Geese Book

The Ultimate Flying Geese Book


A Path to the Civil War - Aurelia's Journey Quilt

Sampler Block Quilt Book by Sarah Maxwell and Dolores Smith for Kansas City Star Quilts



Out of Stock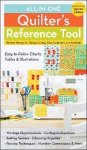 All-in-One Quilter's Reference Tool - 2nd Edition

Quilter's Reference Tool answers for all your quilting questions.


Blocks With Options

Quick and easy quilts with color and size variations



Out of Stock
Borderland in Butternut & Blue

A Sampler Quilt to recall the Civil War along the Kansas/Missouri border by Barbara Brackman for Kansas City Star Books


Civil War Legacies II by Carol Hopkins

17 Small Quilt Patterns for Reproduction Fabrics by Carol Hopkins


Foolproof Crazy Quilting

Foolproof Crazy Quilting by Jennifer Clouston Nothing for C&T Publishing



Out of Stock
Loose Change

Play with pre-cuts to create fast and easy quilts designed by Lynne Hagmeier for Kansas Troubles Quilters


Quilt Shop Navigator - Midwest Regional Directory 23rd Edition

Quilt Shop Navigator - Midwest 23rd Edition


Nine Patch Gatherings

A collection of small quilts using 9-Patch blocks from Lisa Bongean & Carole Charles for Primitive Gatherings


Ring Around The Hexies

A Collaboration Celebration from Bonnie Hunter and Mickey Depre.


Scraps And Shirttails II

Continue the art of quilting green with Bonnie Hunter and Kansas City Star Quilts!


Simple Appeal by Kim Diehl

Patchwork and Applique Projects for Everyday Living By Kim Diehl


Skip the Borders

Easy quilt patterns for modern quilts by Julie Herman of Jaybird Quilts for That Patchwork Place.