WashTub Quilts is pleased to offer you FREE LAYAWAY on any Full Price Quilt Kit!

Our layaway offers you a manageable way to purchase a kit without going over your budget.
You may also include additional items to help you complete your kit such as books, patterns, notions, and backing.


Layaway Details
25% non-refundable deposit based on the total price, including tax and shipping if applicable.

The deposit ensures that your name goes on the merchandise and can no longer be sold.

A monthly payment of $10 is required each month and we will invoice you monthly.


If the monthly payment is not made or the layaway is cancelled, the 25% non-refundable down payment will be forfeited and the merchandise will be returned to inventory.

All other payments will be refunded as store credit.

No price adjustments will be made if any of the merchandise goes on sale.

To put a kit on layaway, add "Layaway" to the notes before adding the kit to the cart, or in the comments section during checkout. Don't panic, the amount will still display the full amount, but we will adjust your payment to reflect the 25% non-refundable deposit and remove the shipping. If shipping is required, then we will invoice you for the shipping with your final payment.
Bottoms Up - Jewel Tone

Bottoms Up Quilt Kit from WashTub Quilts



Out of Stock
Heartstrings Simple Whatnots Kit

Simple Whatnots Club 10 kit and pattern by Kim Diehl


Hollyhock Heaven Kit

Miniature Quilt Kit by Emily Hardwig of Red Button Quilt Co


In and Out Simple Whatnots Kit

Simple Whatnots Club 10 kit and pattern by Kim Diehl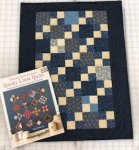 Indiana Indigo Kit

Quilt Kit from Quirky Little Quilts - Patchwork from the Past, Projects for the Present


Itty Bitty Periwinkle Lap Quilt

Itty Bitty Periwinkle Quilt Kit


Kick the Can Simple Whatnots Kit

Simple Whatnots Club 10 kit and pattern by Kim Diehl


Laugh Yourself Silly Simple Whatnots Kit

Simple Whatnots Club 10 kit and pattern by Kim Diehl


Out of the Box Quilt Kit

Quilt Kit from the Simple Patchwork book by Kim Diehl


Periwinkle Table Topper Kit - Halloweenie BG

Halloween Periwinkle Table Topper Quilt Kit


Simple Whatnots Club 6 - Prairie Sky Quilt Kit

Prairie Sky quilt kit from the Simple Whatnots Club 6 by Kim Diehl


Snow Sisters - Rosie Kit

Snow Sisters Quilt Kit



Out of Stock
Thirtie's Meandering Kit

Meandering Quilt Kit from the Simple Whatnots Club by Kim Diehl


Tick Tock

Table Runner Quilt Kit


Traffic Jam

Traffic Jam Kit from the Simple Whatnots Club 10 by Kim Diehl


Tried & True Quilt Kit

Tried & True Quilt Kit from WashTub Quilts


Barrister Block

Mug Rug Kit from WashTub Quilts


Nine Patch Table Runner

Nine Patch Table Runner Quilt Kit


Periwinkle Table Topper Kit - Black & Aqua

Periwinkle Table Topper Quilt Kit


Periwinkle Table Topper Kit - Black & Red

Periwinkle Table Topper Quilt Kit


Periwinkle Table Topper Kit - Blue & Red

Periwinkle Table Topper Quilt Kit



Out of Stock
Periwinkle Table Topper Kit - Green & Cream

Periwinkle Table Topper Quilt Kit


Periwinkle Table Topper Kit - Red & Cream

Periwinkle Table Topper Quilt Kit


Plain Homespun Folk

Homespun Log Cabin Quilt Kit